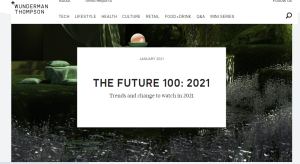 Come ogni anno Wunderman Thompson Intelligence (già JWT Intelligence) ha pubblicato il suo report sulle 100 tendenze per il 2021. Arrivo un po' tardi perchè loro l'hanno pubblicato a gennaio ed io ho voluto leggermelo prima di condividerlo: su questo blog solo contenuti provati e garantiti in prima persona.
Come ogni hanno è estremamente interessante e vi consiglio di leggerlo (si scarica gratuitamente qui, previa registrazione)
Come ogni anno vi consiglio di guardare anche le tendenze dei settori diversi da quello in cui lavorate. E' soprattutto guardando fuori dal vostro campo che troverete maggiori ispirazioni.
Aggiungo che trovo diverse conferme ai concetti della mia visione di marketing totale, che ho sviluppato nell'ormai lontano 2014
Di seguito gli spunti che mi hanno colpito di più (escludendo ovviamente quelli del food & beverage, mio campo specifico). In generale comunque il consiglio è di cominciare a pensare/trovare un modo per declinare quello che fate in una logica di gaming. Qualunque sia la vostra attività.
02 New Gaming Frontier.
07 Brand Fandoms.
10 Lexus Culinary Cinema.
15 Mixed Reality.
21 Member based travel and hotel services.
31 Branding Togheter.
33 Tik Tok Ads.
34 Big Brands Go Circular.
35 Ethical Scoreboard.
37 Brand Safety.
52 Foraged Ingredients.
54 3 Hot Beauty Ingredients.
63 Dark Stores.
65 Live Commerce.
67 Anti Amazon Retail.
68 Influencers Become the Store.
73 Workations.
74 Employee Activists.
83 Digital Nutrition.
98 Crisis Savings.